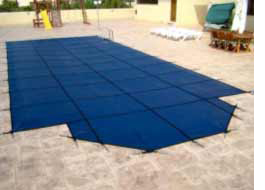 In Ground Deluxe Safety Swimming Pool Cover. Prices from £320
A really great product that gives you peace of mind. This mesh constructed cover is attached to lots of points around the pool to small children and animals from falling in. The mesh construction allows water to go through so it doesn't weigh down the cover and create gaps.
Price according to pool size – Please call.