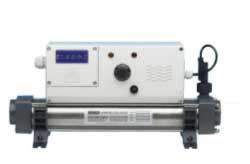 Electro 3kw Electric Coil Pool Heater
The 3kw Elecro Coil  pool heater is easy to install. It features an integral contactor relay, a control thermostat and a seperate safety thermostat. It is pre-wired and even has a super sensitive flow switch.  It's safe coupling means it can be used for Intex, Fast Set type splasher pools. All that's needed is a  final connection to a mandatory separate RCD. No pump interlock is required and its comes with a 1½" BSP female threaded adapter so is easy to connect to rigid pipework. Or alternatively for flexible pipework a hose tail adapter is supplied too.
Price only £355 plus shipping!